The International Order Of The Knights Of Saint Luke is a chivalric order available exclusively to Ordained Ministers of Saint Luke Evangelical Christian Ministries (First International Church Of The Web).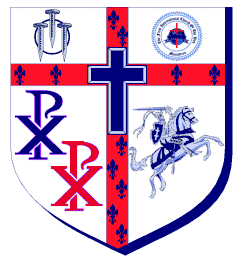 Membership is awarded upon application, consists of three ranks, and is irrespective of gender, race, or nationality.
The motto of our order is:
"Improvement of Self.
Charity to Others.
Compassion toward All."
The aims of our order are to achieve in the member, through the voluntary practice of our discipline, the following results:
1. The building and improvement of Christian Character in the individual.
2. The practice and promotion of charity to those we meet and have contact with.
3. Demonstration of that compassion best exemplified by our Lord and Savior Jesus Christ to a lost and sinful world.
Our order consists of three ranks, which must be achieved in succession. For full details on each rank, the discipline relevant to each, and how you may join and participate in our order, click on the rank titles below.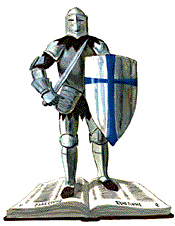 Knight Of The Order, Third Class (Squire)
Entrance level rank of our order.
Knight Of The Order, Second Class (Officer)
Mid-level rank of our order.
Knight Of The Order, First Class (Commander)
Highest level rank available to members of our order.
Note: Our ranks are issued to qualified applicants regardless of gender, which is to say, the title of "Knight" is awarded to both male and female members. The only distinction of gender is in the manner of address; i.e., the manner of address for male members is "Sir Knight (first name)", and the manner of address for female members is "Dame Knight (first name)", or alternatively, "Lady Knight (first name)".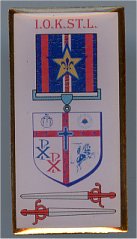 NEW! Full Color Lapel Pin available exclusively to members of The International Order Of The Knights Of St. Luke!

Testimonial
The duties and disciplines of the three ranks within the Order have edified and supported me in my spiritual life. Like many spiritual people, I had already been doing many of the works of each rank; however, following the guidance for each rank has helped me to immerse myself in prayer and service in a more mindful, ordered, and present way. The self-discipline required by the conscious actions, journaled thoughtfully, has given my spiritual life even more depth and meaning. I am most grateful for the International Order of the Knights of St Luke, and to Brother Dave, for giving me tools and structure with which to grow and deepen my relationship with my Lord and Savior, and to serve Him intelligently and effectively.
Dame Knight Rebecca Ellen Augustine, IOKStL (Commander).

copyright 2005-2023 by Rev. David M. Ford