The Ordaining Ministry Of
The First International Church Of The Web
"Equipping The Saint For The Great Work""
Credentials Catalog Page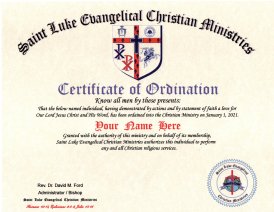 Welcome To The Credentials Catalog Page Of
The First International Church Of The Web!

Here you'll find all the materials available to members and ordained clergy of our church. The materials offered here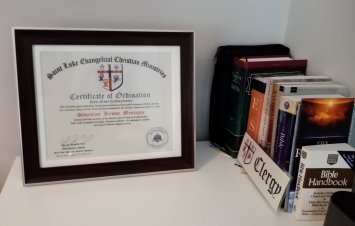 are issued through Saint Luke Evangelical Christian Ministries, the ordaining ministry of our church. Each of the links below is to a page of our catalog. Thank you for supporting our church with your order, and God bless you!
---
Catalog Page One
Information, description, and samples of our Membership Certificate, our All-in-One Ordination Package, our NEW Photo I.D. Cards, our Deluxe Photo-Personalized Ordination Certificate and Photo I.D. Package, our Certificate of License to Ministry, our Evangelist Of The Church Certificate, and our Minister's Oath.
Catalog Page Two
Information, description, and samples of our Confirmation Of Communion Certificate, Independent Church Charters, and Title Certificates.
Catalog Page Three
Your New Christian Name Certificate, Letter of Ordination and Letter of Good Standing on church letterhead.
Honorary Dr. of Divinity Degree
Awarded by St. Luke Evangelical School Of Biblical Studies in recognition of your Christian life experience.
We Currently Accept Orders Only Through PayPal

New!!!
Important New Resources for Your Ministry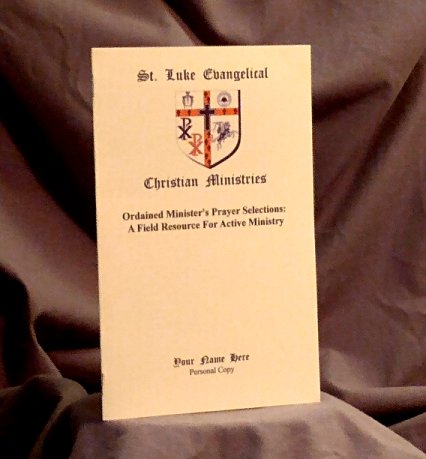 We are very excited to announce our new "Ordained Minister's Prayer Selections: A Field Resource For Active Ministry" is now available for order! Designed specially for the ministry needs or our ordained ministers and clergy, this book is packed with model prayers on a variety of topics. An excellent tool for ministry in the field.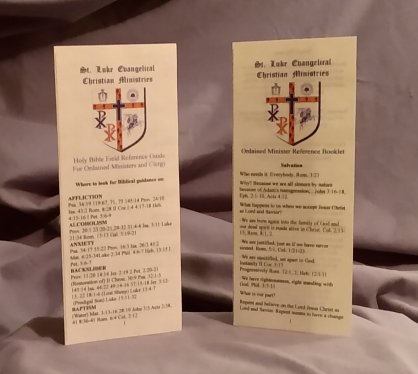 St. Luke's is now happy to offer our
New Holy Bible Field Reference Guide For Ordained Ministers and Clergy and Ordained Minister Reference Booklet.
Designed for "on the spot" ministry, these handy resources cover many aspects of ministry and are laminated for durability to give years of use. You'll find yourself reaching for them again and again as you carry out your ministry.


We now offer several new
Discount Package Specials.
Includes our Beginning Minister's "Tool Box" Kit!

Baptism and Marriage Certificates
Unique Baptism and Marriage Certificates you won't find anywhere else!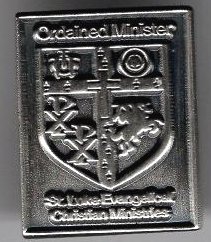 Pewter "Ordained Minister" Lapel Pins
Read Testimonials From Members And Ministers Who've Ordered Our Certificates!
Saint Luke Evangelical School Of Biblical Studies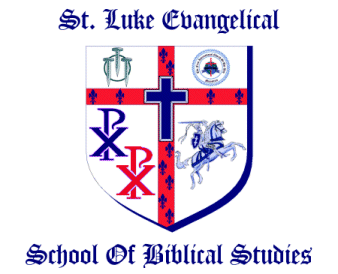 Return To The First International Church Of The Web
Copyright 1997-2022 Rev. David M. Ford
stlukeministries@gmail.com
All materials, text, and graphic images on or hosted on this site are copyrighted to Rev. David M. Ford and any unauthorized use of any sort is strictly prohibited.