St. Luke's new Prayer Book features a selection of prayers covering a variety of the sort of prayer requests we, as independent ministers, most often receive.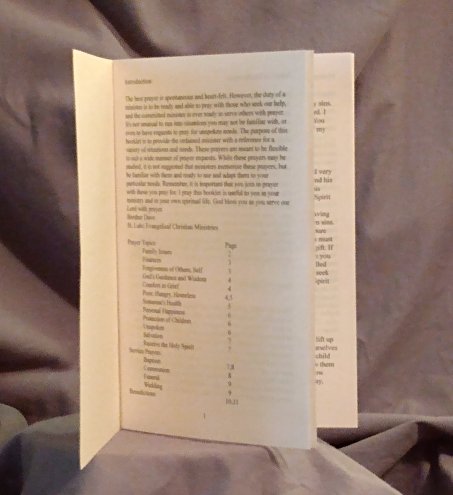 While the best prayer is spontaneous and heart-felt, we often find ourselves facing situations beyond our normal scope. It is a duty, as well as a great joy, of the committed minister to be prepared to share prayer at a moment's notice with anyone who seeks our help. All prayers included are also meant to be readily adaptable to a variety of situations.


Topics covered include: Family Issues, Finances, Forgiveness, Guidance, Comfort, Poverty, Homelessness and Hunger, Health, Happiness, and more, including Unspoken requests. Service prayers are included for Baptism, Communion, Funeral, and Wedding services. Over a dozen Benedictions are included so you are always ready to share our Lord's blessings.


Designed for durability in the field, our full color cover is printed on 65 lb. Ivory Linen Cardstock, and includes personalization with your name printed in Old English Script, with a seperate line identifying it as your personal copy.


Inside, you'll find 12 pages packed with a collection of specially chosen prayers designed for the unique challenges faced by ministers in the field. Sharply printed and clearly laid out to make reading in the field comfortable and natural. Includes a brief introduction from Brother Dave.