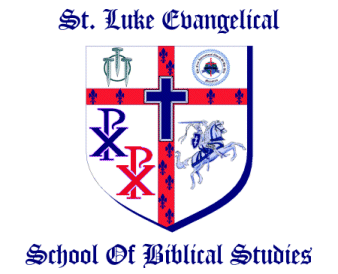 Honorary Doctor Of Divinity Degree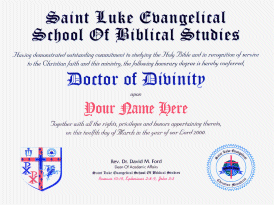 Saint Luke Evangelical School Of Biblical Studies will award you an honorary Dr. of Divinity degree in recognition of your life experience. This will qualify you to use the title of "Rev.Dr." before your name, or the initials "D.D." after your name. For example:

Rev.Dr. John A. Smith
or
Rev. John A. Smith, D.D.

To order you Honorary Doctor of Divinity degree, please include the following items:

1. Your name as you wish it to appear on your degree.
2. A brief testimony about your personal experience as a Christian. This can be about how you were saved, the difference Christ has made in your life, how you led someone to Christ, or any personal experience involving your faith.
3. Check or money order for the suggested contribution of forty dollars made out to "St. Luke's".
4. Be sure and include your return address.




Mail the above items to:


Rev. David M. Ford
8721 Santa Monica Blvd #338
Los Angeles CA 90069-4507


Your Honorary Doctor of Divinity degree will be awarded to you upon review of your testimony. In addition to your full sized degree, you'll also receive a laminated, wallet sized version of your degree to carry with you.


Please Note: Due to mailing, printing, and processing times, please allow up to 4 weeks for delivery.

To order this item online with your credit card, please click on the "button" below:





You can order any of our certificates safely and securely online using PayPal, a free service that lets you send your contribution to our school's e-mail address at webrev@bellsouth.net. Simply register for their service, then follow the instructions for sending your contribution to webrev@bellsouth.net . Be sure and E-Mail Rev. David M. Ford that your order has been placed, and follow the instructions above for sending in any required tests or papers.






Additional Resources
The following resources are not part of the curriculum, but are included here as valuable resources to our students and visitors.

Evangelism
A Bible study and practical guide on evangelism. Includes a survey form and discussion questions.

How To Prepare Your First Sermon

Benedictions
(for memorization)

First International Church Of The Web Clergy Resource Page