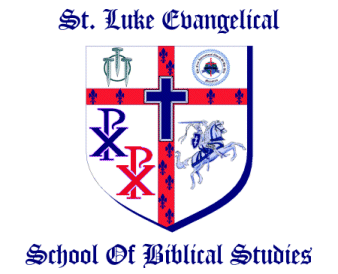 Ph.D. in Biblical Studies Program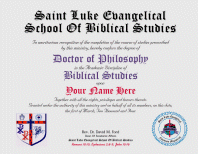 Saint Luke Evangelical School Of Biblical Studies can be used to earn your Ph.D. in Biblical Studies, or simply as a resource for Christian Ministry.
The lessons in this program have been specially chosen for the earnest Bible student. The lessons provide not only a basic understanding of the Bible and its message, but also prepare the student for a lifetime of rewarding and insightful independent Bible study. In addition, the lessons address a number of key ministry issues. Completion of the lessons will result in a well rounded basis to build and lead a successful lay ministry.
To earn your Ph.D. in Biblical Studies, scroll to the lower part of this page, where you'll find links to the lessons and accompanying tests for each lesson. Print and complete these following the instructions on the tests. You are advised to go ahead and print all the tests in advance, as well as print all the lessons in advance, to prevent any delays caused by off-site servers going down temporarily, etc. Also, this will allow you to complete your studies away from the computer if necessary. Your degree is awarded based on good-faith completion of these lessons, so there is no need to mail in any tests. When you order your degree we take that as indication that you've completed the lessons.
Those not wishing to pursue a degree can still benefit from our school, as the lessons represent a wonderful resource for any Christian. You are encouraged to print up all the lessons and use them as an important reference. I am certain you will find the lessons very useful and helpful. The suggested contribution for this degree is only $125.
Scroll down this page to find links to the tests and lessons recommended for your Ph.D.

We accept orders online using PayPal.
To order this item online with your credit card, please click on the "button" below:

Lessons in Biblical Studies

Level One

How To Study The Bible 1
Test For How To Study The Bible 1

How To Study The Bible 2
Test For How To Study The Bible 2

HowTo Study The Bible 3
Test For How To Study The Bible 3

Level Two

A Summary Of The Bible
Test For Summary Of The Bible

New Testament Survey, Summary
Test For New Testament Survey, Summary

Chronological Study of the Life of Christ
Test For Chronological Study Of The Life Of Christ

The Spirit & The Bride
Test For The Spirit And The Bride

Some Bible Facts
Test For Bible Facts

Level Three

How To Pray
Test For How To Pray

How To Receive Healing
Test For How To Receive Healing

Understanding Spiritual Gifts
Test For Understanding Spiritual Gifts

Witnessing: A Matter Of Life Or Death
Test For Witnessing: A Matter Of Life Or Death

How to Deal with Trespasses in the Body of Christ
Test For How To Deal With Trespasses In The Body Of Christ

Additional Resources
The following resources are not part of the curriculum, but are included here as valuable resources to our students and visitors.

Evangelism
A Bible study and practical guide on evangelism. Includes a survey form and discussion questions.

How To Prepare Your First Sermon

Benedictions
(for memorization)

First International Church Of The Web Clergy Resource Page