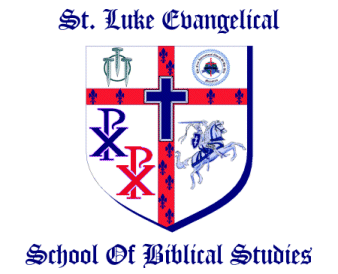 Bachelor Of Christian Web Site Design Program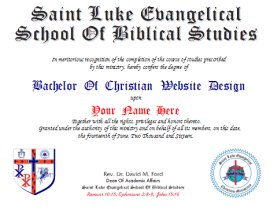 The degree is available in Traditional Format (above) and our new Photo-Personalized Format (scroll down to view).
Saint Luke Evangelical School Of Biblical Studies can be used to earn your Bachelor of Christian Web Site Design, or simply as a resource for Christian Ministry.
The Bachelor Of Christian Web Site Design is awarded based on the successful creation of a Christian web site. Students are advised to follow the suggestions found in our Christian Web Site Design Lesson, which includes a basic course in HTML, design suggestions, suggested community interactive features, site maintenance and site promotion. Suggested readings also include the Bare Bones HTML Guide, and How To Start A Web-Based Church. There are no written tests for this degree. Upon completion of your Christian web site, e-mail the following items to stlukeministries@gmail.com :
1. The complete URL of your Christian web site.
2. Your name as you wish it to appear on your degree.

Your Bachelor Of Christian Web Site Design will be awarded upon review of your Christian web site. The suggested contribution for this degree is only $60.
To order this item online with your credit card, please click on the "button" below:
New Photo-Personalized Format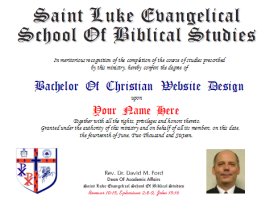 The same degree as above, but personalized with your own headshot photograph. Includes laminated wallet-sized degree card (without photo).You will need to email your headshot photo to Brother Dave at stlukeministries@gmail.com Your Photo-Personalized degree is availalble for a contribution of only $70!
Additional Resources
The following resources are not part of the curriculum, but are included here as valuable resources to our students and visitors.

How To Prepare Your First Sermon

Benedictions
(for memorization)

First International Church Of The Web Clergy Resource Page